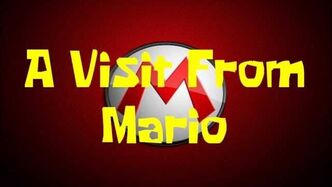 A Visit From Mario is a segemnt in Mr Krabs Goes Nuts 2, where video game legend Mario becomes quite popular around Kingsfield, resulting in a surprise visit from Mario himself.
It's a normal day at the Krusty Krab and SpongeBob is annoying Squidward, when Luigi and his friends enter the restaurant, much to Squidward's dismay.
Appearances
Edit
Luigi
SpongeBob
Squidward
Justin
Niall
Mr Krabs
Mario (debut)
E.K
Kizza
APM Music/Soundtrack identification
Edit
APM Music
The Twin Sisters - Title Card
The Achterhoek Dances - Opening
Hello Sailor (b) - Another day in the Krusty Krab

Other Music
Super Mario Bros. Theme - Mario enters.
Ad blocker interference detected!
Wikia is a free-to-use site that makes money from advertising. We have a modified experience for viewers using ad blockers

Wikia is not accessible if you've made further modifications. Remove the custom ad blocker rule(s) and the page will load as expected.