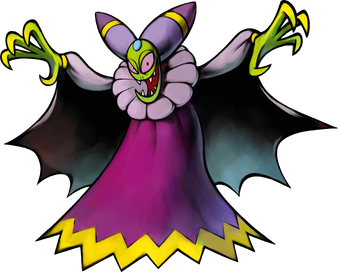 (FROM MARIO WIKI)
Cackletta is an evil witch from the Beanbean Kingdom and is the main antagonist of Mario & Luigi: Superstar Saga for the Game Boy Advance, also she has appeared in VAM.
Life story
Edit
Not much is known about her, she is of Beanish decent.
Appearences
Edit
Visiting Aunt Miriam 3: Back to the Beanbean Kingdom
Edit
Cackletta is the main antagonist, she is bought back to life the same way Voldemort was, she fakes her own death.
Visiting Aunt Miriam ???: ???
Edit
Cackletta is set to return, along with Voldemort.
Ad blocker interference detected!
Wikia is a free-to-use site that makes money from advertising. We have a modified experience for viewers using ad blockers

Wikia is not accessible if you've made further modifications. Remove the custom ad blocker rule(s) and the page will load as expected.